FLUX Battery Recombination Caps....


Water Batteries Yearly, not Monthly!
The FLUX Series of Battery Recombination Caps are so efficient at saving water in your battery that watering your batteries once every year or longer is not uncommon. FLUX Battery Caps are lead acid batteries answer to nearly ZERO watering maintenance. Sound to good to be true, its not. Flow Systems has spent the last three years developing a vent cap solution that almost entirely alleviates the need for routine watering. With the FLUX Battery Recombination Cap installed, the water loss is so minimal, the maintenance required can almost be compared to that of sealed AGM batteries but, at a fraction of the original cost, better overall performance and longer lasting batteries. If you are looking to free yourself from constantly wondering if your batteries are going to go "DRY", the FLUX series of battery vent caps is your answer.


Ideal for These Battery Groups and Sizes...
Designed specifically for all typs of stationary and stand-by applications.
• Lead Calcium
• Lead Selenium
• Lead Antimony
• Sintered Plate NiCad
• Fiber NiCad
• Pocket Plate NiCad
• Stationary / Stand-by
• Backup Systems
• OPzS
• Power Grid
• Critical Power
• Telecom
• Rail Road Systems

• Marine Applications
• Municipal Traffic
• Solar Power
• Security Backup
• Many others
How do they Work?

The FLUX Series of Battery Recombination Caps utilizes a two phase approach to capturing the water that escapes your battery. The first phase of water retention uses the same
Vapor Aggregation Technology
designed for use in our
Water Miser Battery Vents
. Ambient environmental temperatures as well as the heat generated from a working battery lead to water loss in the form of actual H2O water vapor molecules. The H2O molecules are captured by passing through a vapor retention medium designed specifically to attract and condense the vapor into a droplet. The droplets increase in size until they are heavy enough to be pulled by gravity back down into the battery cell. This typically accounts for about half of the water loss from a battery.
The second way a battery loses water is through electrolysis. As current from charging passes through the electrolyte (acid/base + water), it splits the H2O molecule up into its purest form of Hydrogen and Oxygen. The main mechanism the FLUX Recombination Battery Cap uses to recycle the emitted gas from your battery is what we call our Hyper Catalytic Core. This internal component contains a combination of proprietary noble metals designed to react with the gas as it exits the battery. As gas passes over the core, the hydrogen and oxygen is recombined back into water then is passively directed back into the battery for reuse. When you combine both of these processes into one recombination unit, you get an extremely efficient system that retains almost all the water in a battery.
Calculating Water Loss (0.5g - 2.8g per cell / per cycle):
If you are wondering how this calculates into a real world, understandable view of water loss, take for example the common 6V Volt L16 group size battery that is so popular with solar battery installations. If the average water loss is 0.5 grams of water loss per cycle per cell with the FLUX2000 Recombination Battery Vent installed, and an L16 battery has at a minimum of 300 grams of electrolyte in the reserve portion of the battery cell, it would take 600 days before the plates inside your battery would be exposed, leading to battery damage or failure. However the water savings does not stop there.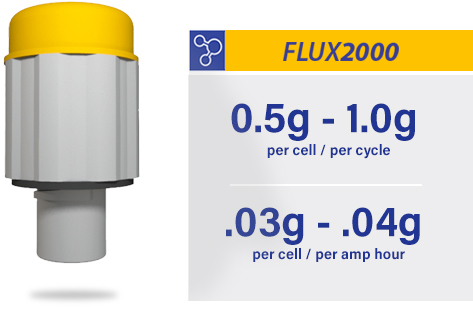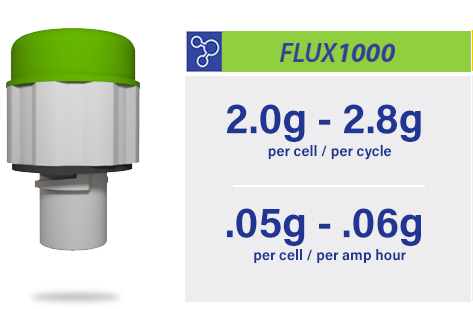 To take this one step further, we need to consider a batteries cycle life. The previously mentioned 600 days without adding water assumes the battery in use is cycled daily with a full discharge of the battery and a subsequent full 100% recharge. This is rarely the case and especially in renewable energy applications. Batteries are typically partially discharged and then charged back up when taken out of daily service. This is called a Partial State of Charge (PSOC). For our testing purposes we wanted to push the FLUX vents to their limit by fully discharging them once a day and then fully charging them once a day to better understand their capacity for recombination. Now, say for instance the average user cycles their battery once every other day instead of everyday as we did in the lab tests. In its simplest terms, this would equate to 1800 days or almost 5 years without having to add any water to the battery. This example is based on a controlled test in a controlled environment with the charger set to the manufacturer recommended settings. While results will vary, the end result should be a substantial water savings over traditional battery venting technology.
Testing and Third Party Validated Results...

Water Loss Testing
In order to backup our claims, the FLUX battery vent was not only tested in house but, by the industry's leading battery cycle and capacity testing firm, JBI Corp. based in the United States. JBI is one of only a handful of labs where industry experts and battery manufacturers turn to provide crucial life cycle and capacity testing on their batteries. JBI performed three separate test on 4 different batteries in order to confirm both the water loss by weight and the water loss per AH discharge. The water loss testing procedure was based on a 75 Amp cycle test and The Battery Council International's BCIS-06 Cycle Life Testing Standard. Results confirmed the FLUX line of recombination battery vents work as intended

Flame & Spark Testing
Each FLUX Recombination Vent is equipped with an industry standard spark and flame arresting polypropylene compressed filament filter to prevent any potential ignition of environmental hydrogen produced by the battery. We tested the ability of the FLUX Recombination Vent to mitigate a possible explosion from externally initiated sparks or fire sources using SAEJ14952-13 requirements. All vents tested passed ensuring safe operation of the FLUX Recombination Vent in the presence of any ignition source.

Vent Pressure Testing
The FLUX Recombination Vent relies on a very specific and consistent internal pressure system. To insure the internal pressures generated are sufficient to support the recombination process, we developed our own testing platform and equipment. Each vent is tested to before leaving our facility to make sure it falls within the specified pressure range.
Field Testing
In addition to testing the FLUX Recombination vent in a third party lab setting, we periodically have our vents tested in the field. Each battery system is different from the charger, to the size of the battery and to even the elevation at which the battery operates. All these different variables, contribute to a different operating environment than what might be present in a laboratory. To make sure the FLUX Recombination Battery Vent operates effectively across a wide range of possible scenarios, we periodically have individuals test them on their systems. These range from home based solar systems to commercial storage banks.

Explosive Hydrogen is Turned back into Water!
One of the byproducts of charging a battery is what is commonly referred to as "Off-Gassing". Both pure Hydrogen and pure oxygen are produced when current passes through the batteries electrolyte (water + dilute acid solution). Each H2O molecule is spit apart and released from your battery into the surrounding atmosphere. This is unavoidable issue has plagued battery manufacturers since the inception of lead acid batteries in the mid 1800s. While Oxygen is almost completely harmless, the Hydrogen that is produced is an entirely different story. In concentrations as little as 2% in an given enclosed space, hydrogen is extremely flammable and explosive. Battery explosions are still very rare but, in mission critical situations this risk can almost entirely be avoided by installing FLUX battery recombination vents. When used properly, almost all hydrogen produced by the battery is recombined with the existing oxygen and turned back into its harmless form of water and then redirected back into the battery.
OPTIMIZATION: Getting the most out of your FLUX Battery Vents...

There are a few basic parameters that are necessary to achieve maximum water savings with the Flux Recombination Battery Vent.

DO NOT OVERCHARGE: Charging beyond manufacturer's charging specifications will damage FLUX Vents
MAX CHARGING VOLTAGE: 2.4 Volts +/- 1% (except during equalization phase charging)
CHARGER SETTINGS: Make sure your charger setting are accurate and specific to your battery size
LIMITED MOVEMENT: Batteries must remain relatively stationary, not designed for overtly rough or bumpy mobile applications
Fits all US & European Batteries
FLUX battery recombination vents use a bayonet style attachment to lock into the cell opening on your battery. The FLUX series of recombination battery vent caps will also fit all U.S. and European DIN style batteries with the use of one of our vent cap adapters. including brands like:

C&D Batteries
Stryten (Exide / GNB)
Enersys Batteries
Exponential Power (SBS)
Midac
Sunlight Systems
BAE Batteries
Trojan Batteries
Eagle Eye Power Solutions
US Batteries




Bater Battery
Hoppecke
East Penn Deka
Urban Electric Power
Battery Builders
Dyno Battery
Superior Batteries
and many others....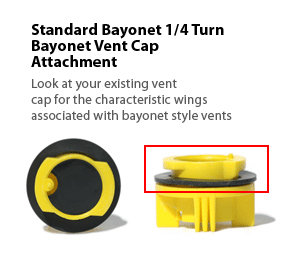 If you are still wondering whether the FLUX Battery Recombination Vent Cap will fit your specific make and model of battery, give us a call at 1 (419) 290-1103. One of our knowledgeable staff would be happy to answer any of your sizing questions. .
---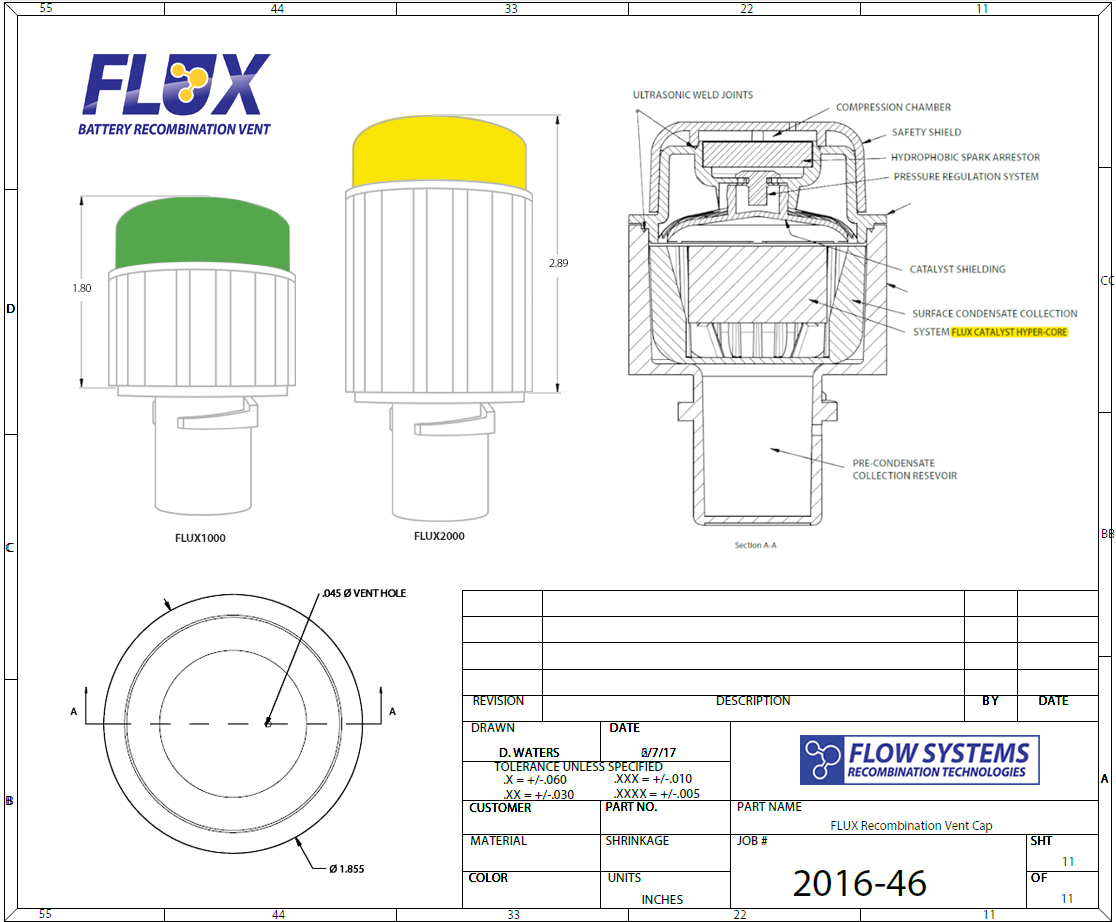 FLUX1000


FLUX2000

DIMENSIONS / WEIGHT
Total Height

2.85" / 7.239 cm

3.95" / 10.03 cm

Height from Top of Battery Cover w/ Rubber Washer

1.86" / 4.72 cm

2.95" / 7.49 cm

Diameter / Width

1.85" / 4.69 cm

1.85" / 4.69 cm

Weight

1.8 oz / 52.40 g

2.71 oz / 76.82 g

FEATURES
Flame & Spark Arrestor

•

•

Rubber Washer

•

•

Vents from Top

•

•

Lifespan (dependent on charging program)

•

•

Effective Temperature Range

•

•

Internal Pressure Regulator

•

•

H2O Vapor Aggregation Technology

•

•

Hyper Catalytic Recombination Core

•

•

BATTERY SIZE & CAPACITY
Stationary Up to 4000 AH

•

•

OPzS Up to 4000 AH

•

•

Group Size GC Series 6V / 8V / 12V

•

Group Size L16

•
Do I have to add water to my batteries?
Yes, over greatly extended periods of time, even with the FLUX Battery Recombination Caps installed, you will eventually have to add water. This could be anywhere from several months to several years depending on your battery, its charging and maintenance program and the charger itself. Some batteries will retain more water than others.
How often do I have to check the water level while using the FLUX Recombination Vent Caps?
As mentioned above, every battery will loose water at a different rate. To familiarize yourself with the new amount of time in between watering intervals, check your battery to determine whether it needs water at the very same time you normally would. If this is every month, your first check while the FLUX Battery Recombination Vents are installed should be within the next 30 days. If its typically every three months, make your initial check within three months. On your initial check you should be able to determine whether your batteries are loosing any water. You should see very minimal, if any, water loss as compared to how much water you would normally lose during this same time period with your old battery vent caps installed. This initial check is to assure the recombination process is working as it should. On your next check, double the period of time that you would normally check the water level in your batteries and so on until you familiarize yourself with the length of time in between checking with the FLUX Battery Recombination Caps installed on your batteries.
What is the Life Expectancy of the FLUX Vent
With proper installation and maintenance, the FLUX should outlast your batteries. Again, this has a lot to do with usage, the way your batteries are being charged and the size of the battery. On stationary batteries the FLUX Recombination Vents may last 15-20 years. On a small battery bank in an RV House battery system, the FLUX Vents may last 10 years. Others may fall somewhere in between these two extremes.
Why is there a Life Expectancy to begin with?
The main mechanism used to save water in the FLUX Battery Recombination Cap is a catalyst made of one of several precious metals. Eventually over time, this material will become less active and catalyze less gas as they age. Say for example the catalyst inside the FLUX Recombination Battery Caps has 100M active sites that will convert hydrogen and oxygen back into water and this amount of catalyst has a finite amount of time that this recombination process will work. If we understand this variable to be consistent, we then over compensate by adding more catalyst than is necessary thus extending the useful life of the catalyst to insure that they will last as long as possible. This is based on an extrapolated projection because in the lab, we can only test for a given period of time before it is no longer efficient to do so. Eventually we would run out of time and time is one of the constraints that we can not change or we would never be able to release the vent into the market place.
Why are the FLUX Battery Recombination Caps Warm to the Touch?
The catalytic process for recombining the hydrogen and Oxygen back into water is an exothermic process. Heat is generated as the two molecules are recombined. This will make the FLUX Battery Recombination Caps warm to the touch or up to about 150° degrees Fahrenheit. The heat that is generated only occurs when your battery is producing excess gas during the finishing charging phase or as you equalize your battery. Some cells in your battery will produce more or less gas depending on the cells health. More gas equals more heat. However, your Flux Recombination Battery Caps should never be too hot to touch. If this is the case, your overcharging your battery and an adjustment is needed to your charging program. Always charge your batteries to the manufacturer's exact battery charging program. Any deviation or over charging related to an unbalanced charger can damage the FLUX Vents and void their warranty.
What if my batteries are loosing more water than they should with the FLUX Recombination Battery Vents installed.
The amount of water loss will vary but, in general the FLUX Recombination Vent should substantially reduce the amount of water your batteries require. The FLUX Vents are guaranteed so, if you are having any problems whatsoever, give us a call at (419) 290-1103 and one of our technicians would be happy to walk through a diagnosis with you in order to help optimize the FLUX Battery Recombination Caps for your particular system.
Is there any maintenance required to keep the FLUX Recombination vents working at top efficiency?
The FLUX Vent is designed to be maintenance free. Meaning, there is noting you need to do to keep them functioning while on your batteries. The only requirement is that when you do eventually go to check the water levels in your battery and have to remove the vents, never lay the vents on their side. Always keep them in a vertical position. The same position as they would be on your battery. This is to assure that the water generated through the recombination that collects on the interior of the vent does not saturate the catalyst while laying on its side. This is characterized by the vent not warming to the touch during the charging cycle. If this is the case, your can remove the vent from the battery, place in a glass container and heat in any standard oven at no more than 150° degrees Fahrenheit for a period of 1 hour. This will not only dry out the catalyst but recharge the catalyst in the process. You can also try this procedure if you notice any change in the water saving capacity of any FLUX vent. This should not be necessary but, would be your first course of action in the event the FLUX Battery Recombination Vent is not working as intended.